Age hardening aluminium alloys ( 2000, 6000, and 7000 series) or at work hardening ( 1000, 3000, 4000, 5000 series) are commonly used for lightening structures in automotive, aerospace, shipbuilding industry. Although these material are widespread, these alloys are difficult to weld by fusion welding techniques. Riveting stays the assembly technique used for this material despite the many drawbacks it entails ( heterogeneous junction, increased mass, stress concentration at the level of the bores, initiation of corrosion, seal, etc) . The Friction Stir Welding has been invented by British organism The Welding Institute ( TWI). A second patent in 1995 extended the application at the tool level.
The principle of the process is to realize a weld bead by mixing the material of the parts to assembled. Bond forms when hot but below the melting temperature of the material prevent defects related to solidification and reducing residual stresses at the joint. This process can be used on so-called "low melting point" alloys (aluminium, copper, magnesium) and alloys to realize heterogenous welds.
The parts to be assembled are placed in position on an avil and clamped to avoid any relative movements during the welding operation.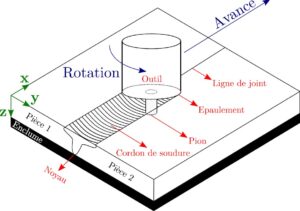 The FSW tool rotates and moves along the joint line. It is composed of 2 parts, the shoulder ( which heats the material by friction in contact with the surface of the parts) and the pin ( which kneads the junction between 2 or more pieces) . The shoulder and the pin can have different form depending the application. The aim is to improve the metallurgical quality of the welding cords.